The project aims at professional training/retraining Ukrainian citizens who lost their jobs and the opportunity to support their families because of the Russian-Ukrainian war.
SMART APPROACH FOR HIGHER EFFICIENCY
TARGET AUDIENCE
internally displaced persons

ATO and Russian-Ukrainian war veterans

spouse of the deceased or disabled ATO or Russian-Ukrainian war veteran

children of the deceased or disabled ATO or Russian-Ukrainian war veteran
INNOVATION
Project participants will acquire not only knowledge and skills but also a tool for making money with the obtained profession (IT professional skills + a laptop; make-up artist or manicurist skills + a professional set of tools, etc.)

fast employment due to the selection of relevant and popular professions (IT, health, and beauty spheres, etc.)

great opportunities for the interested stakeholders' cooperation
BENEFITS
time efficiency (from one to three months)

sustainability (supporting participants means supporting families)

scalability (local, regional, national, and global actions)

adaptability (great possibilities of extension to different popular spheres)

efficiency (immediate effect due to high demand for the acquired professions)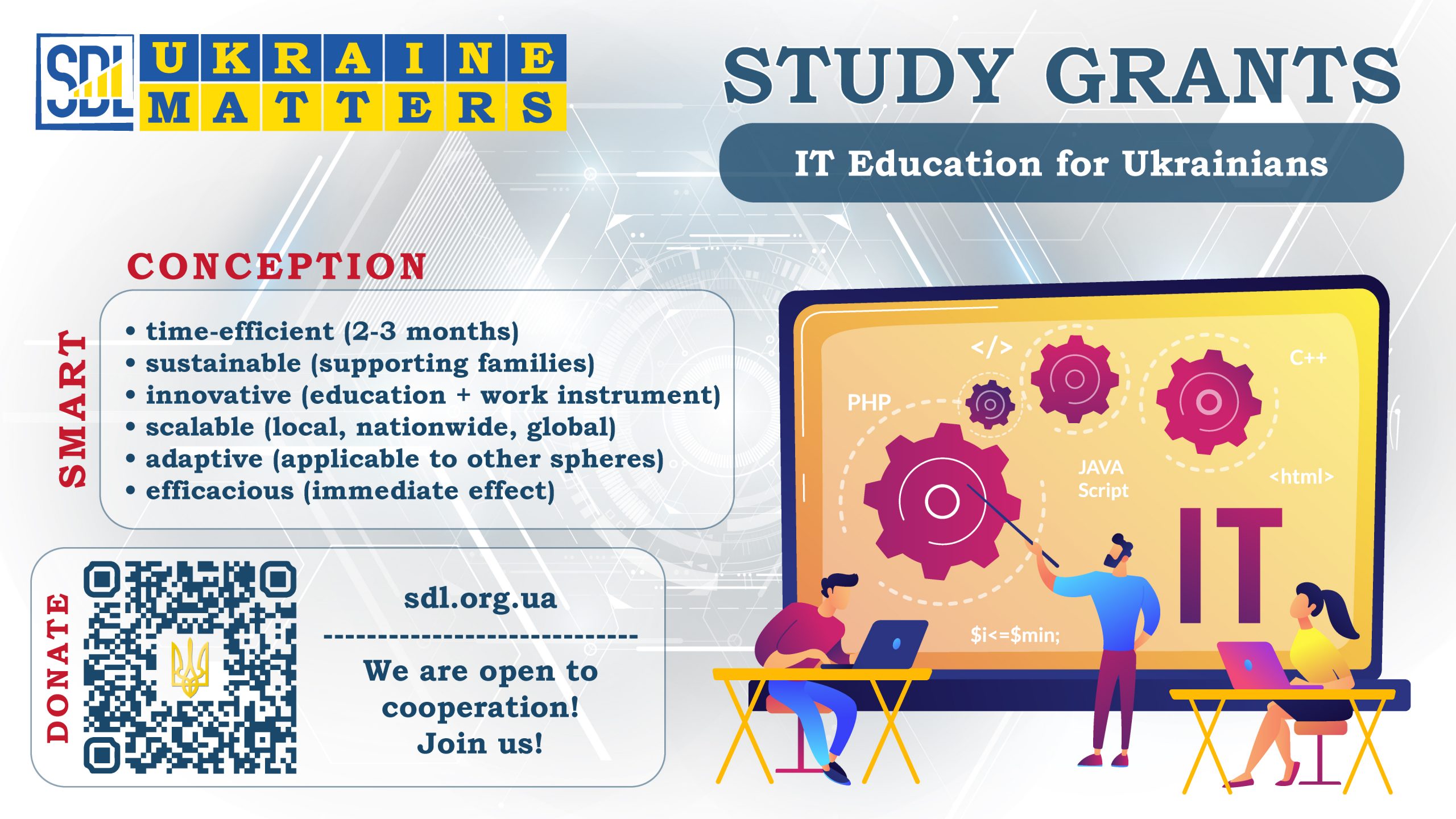 We are launching an extensive grant-writing and fundraising work to implement the Project "Education Grants: IT Education for Ukrainians". 
We urge everyone to support our Initiative either organizationally (IT schools and academies) or financially (donate via the WayForPay Platform or send your donations to the PayPal Account vbgoshylyk@gmail.com). We would also be grateful to the manufacturers of computer hardware and software for providing laptops and licenses to the Project participants. 
The enrollment of participants is coming soon.